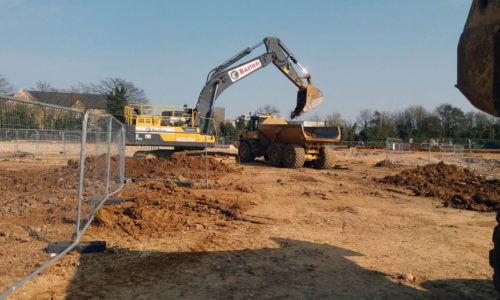 Braintree
Location
Braintree, Essex
Quantity
In-situ modification – 5% and 30% CBR
Type 1 placement 130mm
Type 1 for access road 250mm
Overview
Barton completed a 6 week earthworks and stabilisation package for Simon's Group, on a new £11.5m industrial site in Braintree, Essex.
The site spread across 4 hectares will deliver 5 industrial units by February 2020.
Barton provided a full earthworks cut and fill package with onsite borrow pit, in-situ modification to 5% and 30% CBR, and installation of attenuation tanks, will form part of phase 1 for the project.
Simons Logistics Director, Rob O'Brien, said: "These units will be built to exacting institutional standards and provide a high quality, unique offering in the region," he continued. "Flexible options will be available with clear internal warehouse heights ranging from 8 to 12m, unit sizes from 7,700 to 59,900 sq ft and all offering good sized yards and defined parking with 24/7 accessibility.
"Every unit will have a high level of thermal and fire proofing properties installed; aluminium glazing is provided as standard and the roof and wall cladding come with a 25 year guarantee and high performance. Offices which are fitted out will have American light oak doors, carpet tiles, suspended ceilings, full height tiling to toilets and the electrical and mechanical systems will include sustainable energy and low carbon solutions. Particular consideration has also been given to the external landscaping, to provide a balance of sufficient HGV access, parking and soft landscaping provision to maximise use of available space.".
If you have a requirement for any earthworks, ground engineering, civils or plant maintenance, please contact Barton on 01536 722100 or email reception@barton.co.uk