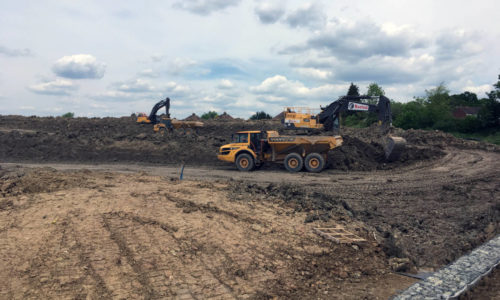 Burgess Hill
Client
Croudace & Hydrock Consultants
Quantity
98,000m3 of material removed from surcharge to bring it to the agreed level
38,000m3 of backfill
60,000m3 stockpile
3,500m3 stabilisation of slurry
Overview
Barton were contracted for earthworks on a prestigious project for a development of high-end residential housing and associated infrastructure which has been ongoing for several years.
The scope of works was to remove approximately 98,000m3 of surcharge material. Approximately 38,000m3 of this was placed in the Public Open Space to bring it to the agreed level. 60,000m3 of material was stockpiled elsewhere.
Excavation of Pond Slurry 3,500m3, which required modification and stabilisation to produce an engineering fill material that met the specification and could be reused on site to reduce the vast quantity of import required.
Installation of a Toe Drain to client specification in the Public Open Space to allow the area to be free draining.
Barton installed a road crossing to protect live services during works and also provided and installed settlement monitoring equipment for the clients ongoing monitoring of the site.
All works were surveyed by our in-house engineers.
Scope of work:
Pond Slurry – Excavate, stabilise and place material from the existing drainage pond in the POS
Removal of surcharge to POS
Temporary road crossing with appropriate protection on a live surface
Installation of 4 rod settlement gauges
Site welfare
Survey topsoil stockpile