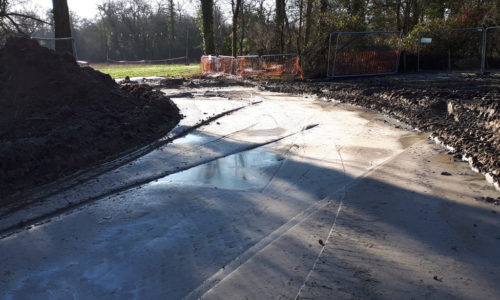 Finchampstead
Quantity
Approx 2,700m2 of PowerCem Stabilisation
100mm topsoil strip
Overview
Barton were contracted by Breheny to provide a stabilisation solution on a temporary haul route, compound area at Finchampstead site.
The access road needed to have suitable weight bearing properties to support HGV/lowloader vehicles, yet the insitu soil was untreatable with standard lime stabilisation.
Barton provided a cost effective solution in RoadCem stabilisation, which combines with cement to treat a range of typically untreatable soils.
Works completed included:
Mobilisation of stabilisation equipment.
Stripped top 100mm of surface vegetation and topsoil; including strip and side cast to stockpile adjacent to the works.
Minimal cut and fill works to create required cross fall to achieve water run off to one side.
Treat top 300mm of surface with blend of RoadCem and Cement products. (Works to provide adequate strength for intended HGV/lowloader access and occasional tracked machinery).