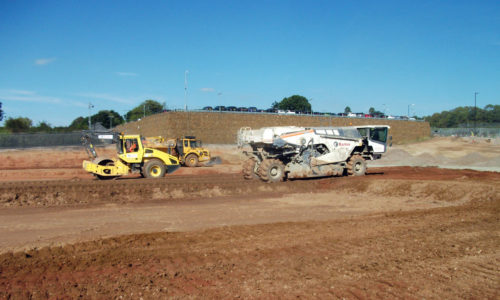 McLaren Whitley
Client
McLaren Construction
Quantity
16,300m3 Cut
50,700m3 Fill
54,300m2 Stabilisation
Overview
Barton have completed an earthworks and stabilisation package for McLaren at Whitley. The project based at Jaguar Land Rover's (JLR) headquarters, provided the enabling works for an extension of their recent powertrain building.
Barton completed 16,300m3 of cut and 50,700m3 of fill to the new building footprint, and provided a civils package with the external slabs and road at the site. An additional 54,300m2 of stabilisation to in-situ material was also required to improve the weight bearing capacity of the in-situ soil.
The Powertrain facility currently being extended, houses the car manufacturers test facilities, equipment and additional office space. The facility provides JLR's engineers with the space and equipment required, to develop and refine the main components that generate power for their world class vehicles.
The extension will create 9,250 sq ft of space over three floors, supporting the growing requirements of the Powertrain team. The increase in space allows for the creation of a specialist storage system, airflow laboratory.
The investment continues to build on phase 3 of an estimated £500m million investment plan for JLR around their headquarters in Whitley. Phase 4 aims to see the development of a manufacturing plant in the city of Coventry, potentially creating thousands of jobs and producing 250,000 vehicles at the new site.