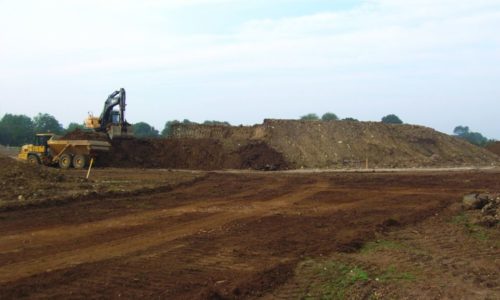 Rushden Lakes
Duration
4 weeks (Completed in 3 weeks)
Scope of Work
Earth removal
Soil testing
Overview
Laying the foundations for success
.
A new £50m shopping and leisure development is set to replace the Rushden Lakes Park at the old Skew Bridge ski club site in Northamptonshire. This new development will house a visitor centre, shops and restaurants as part of Northamptonshire's continuous development, estimated to bring in an additional 3 million shoppers per year and create 2,000 jobs.
The 494,329 sq ft land is now at the start of development, with Barton Plant having been contracted to deconstruct a 33,000 M3 heap into 33 piles for quality checking.
We used a 50 tonne excavator and machine controlled CAT D6 dozer to deconstruct the mound of earth into 33 piles, ready for testing by Alcontrol to determine the quality of soil.